Homemade Venison Jerky Recipe
This Homemade Venison Jerky Recipe post has been compensated by Collective Bias, Inc. and its advertiser. All opinions are mine alone. #LEMLoveToProcess #CollectiveBias
Ever made homemade jerky?  It's surprisingly easy…and really delicious!  This Homemade Venison Jerky Recipe is a favorite snack around our house!
This post may contain paid links. For more information, please see our disclosure policy.
There I was sitting in a shed in the middle of a field somewhere in rural Texas.  Oh, and I had my dog Maximus with me.  And it was dark.  You see, my aunt and uncle have loved to hunt deer for as long as I can remember.  In fact, my uncle hunted using a bow and arrow for many years…that's legit!  Back when I lived in southern Louisiana, I would drive up and visit my aunt and uncle every year around Thanksgiving.  And the day before Thanksgiving, we'd always go out to their "farm" (a big piece of wooded land that bears no actual resemblance to a farm) to hunt. 
Texas, like most states, has a limit on the number of deer you can hunt in a season.  As my aunt and uncle pointed out, though, the limit is more than enough.  They typically grind their venison for chili, and once the freezer is full, they donate the rest to a local food shelter.  (Ground venison mixed with ground beef is amazing in chili, by the way!)  Although there is a limit on deer, there is most definitely no limit on wild hogs.  Yes, wild hogs.  In rural eastern Texas.
I was surprised to hear about the wild hog population in Texas, but apparently it's a real problem.  The hogs get out there and root up farmer's fields which in turn creates major problems.  And when I say root up, I mean root up!  My uncle showed me those hog ruts, and you could definitely get hurt if you stepped in one.  The year before I moved away, Maximus and I drove up for our Thanksgiving visit, and we headed out hunting.
*Boom*  The crack of a gunshot rang out over an otherwise very quiet (almost eerily quiet) Texas evening.  There were no deer to be had on that specific trip, but my aunt had shot one of the wild boars.  Fortunately, they have a family friend who runs a professional catering service, and he always takes any boars that my aunt and uncle come across.  So we loaded that boar into the back of the old pickup truck and delivered it to their catering friend.  Once we arrived at his place, I let Max out of the truck, and he started sniffing around like crazy.  He circled around and around that truck.  So I picked him up and put him in the back of the truck bed.  Max took one step towards that boar, and he literally did a somersault back into my arms.  (The boar wasn't alive…but Max had no interest in waiting around to confirm that one!)
But enough wild boar talk.  Let's talk venison!  Aside from chili, one of my favorite ways to cook venison is actually to turn it into Homemade Venison Jerky.  (Although one of my buddies from Baton Rouge made a cream cheese-stuffed backstrap one time.  Woah!)  I was chatting with one of my curling teammates recently, and he commented that he had some venison in his freezer.  I immediately thought about this Homemade Venison Jerky Recipe…and just a couple of days later, we were making a big batch of jerky.  Yum!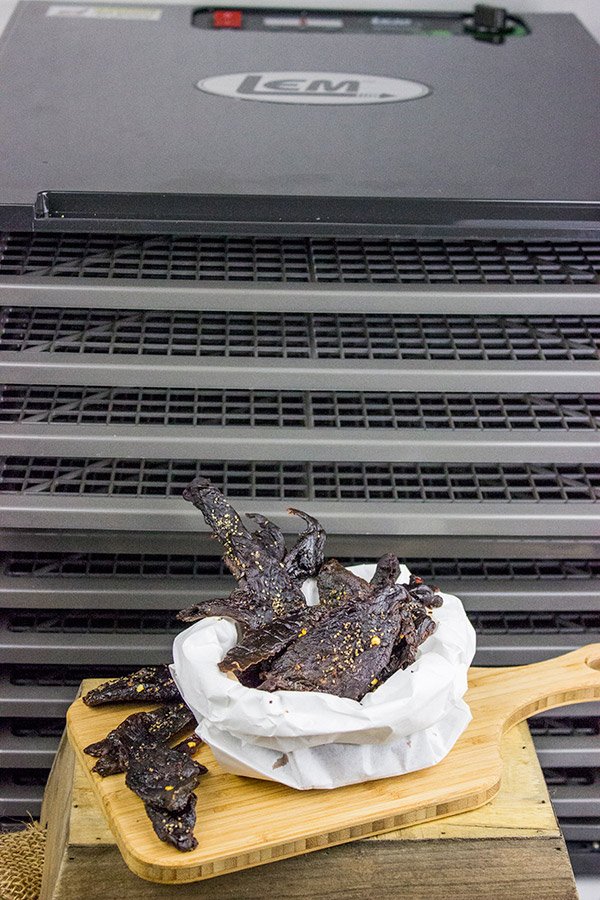 Want to take a closer look at LEM™ Products' Mighty Bite® Dehydrator?  Just hover over the photo above to click through!
For this homemade venison jerky recipe, I used LEM™ Products' Mighty Bite® Dehydrator.  This 10-tray (yes, 10 tray!) dehydrator is perfect for making big batches of jerky, dried fruit, fruit leather, homemade yogurt (yes, yogurt!) and everything in between.  In fact, I just recently read a tip about using a dehydrator as a bread proofing box.  Genius!  My mother-in-law already has plans to use the LEM Mighty Bite Dehydrator over Thanksgiving weekend to make a huge batch of dried sweet potatoes for the dogs.  At this rate, I'm pretty sure I just need to find a permanent spot on the countertop for the dehydrator!  (LEM also makes a smaller, 5-tray model depending on your needs.)
I found the LEM Mighty Bite Dehydrator to be perfect for making this homemade venison jerky.  I split the batch with my buddy (he supplied the venison, after all!), and let's just say that our half of the jerky didn't last very long.  Jerky is actually surprisingly easy to make with a dehydrator!  I did marinate the venison over night in a soy sauce/Worcestershire sauce combination, but that's about it.  The dehydrator itself uses a rear-mounted fan for faster drying times, and it was super quiet while it ran.  (It takes between 3-5 hours to make jerky depending on the thickness of the meat.)
Homemade Venison Jerky Recipe
We're all about making food ourselves (hence the food blog!) around here, and homemade jerky is an easy and delicious snack.  And for you hunters out there, it's always fun to know that you helped supply the venison for this homemade venison jerky recipe.  My curling buddy is actually heading out hunting again this weekend, and he's already asked to borrow our dehydrator.  I told him I'm willing to share as long as some jerky comes back with it!  (LEM also makes a high-quality meat grinder, and I've definitely got my eye on that one as a Christmas present!  We had a burger recently with ground beef and ground bacon…woah.  Bacon ground into a burger is delicious!)
In the meantime, though, you can find me in the kitchen either making more of this homemade venison jerky or using that dehydrator to make all sorts of dried fruit snacks for Robbie!  Cheers, friends!
If you like jerky, try this beef jerky recipe, too!
Homemade Venison Jerky
Ever made homemade jerky?  It's surprisingly easy…and really delicious!  This Homemade Venison Jerky Recipe is a favorite snack around our house!
Print
Pin
Rate
Instructions
Trim any fat from venison and slice across the grain into thin (~¼") strips; set aside. For a chewier jerky, cut meat with the grain. (Tip: Placing meat in freezer for 30 minutes prior to slicing will make it easier to slice thinly.)

Using a large resealable plastic bag, add all remaining ingredients except for black pepper (soy sauce, Worcestershire sauce, vinegar, maple syrup, liquid smoke, brown sugar, salt, onion powder, garlic and red pepper flakes).

Add venison and seal bag; refrigerate for 4-6 hours, or overnight.

Preheat oven to 300°F. Remove venison from marinade and pat dry with paper towels. Place strips in a single layer on a large baking sheet. Bake for 10 minutes, or until internal temperature of meat reaches 160°F. (This step is recommended by the USDA to destroy any bacteria that might be present.)

Transfer venison strips onto the dehydrator racks. (Tip: Space out strips so that they are not touching.) Sprinkle tops of strips with black pepper.

Set dehydrator temperature to 150°F and dehydrate for 3-5 hours, or until a piece of jerky doesn't show any signs of moisture when cut in half. (Finished jerky should be able to be bent without breaking.)
Notes
If looking to store jerky unrefrigerated for a long period of time, then a cure containing sodium nitrite should be used.